Former office holder Pravin Gordhan reappointed after tumultuous week in which rand plummeted to historic low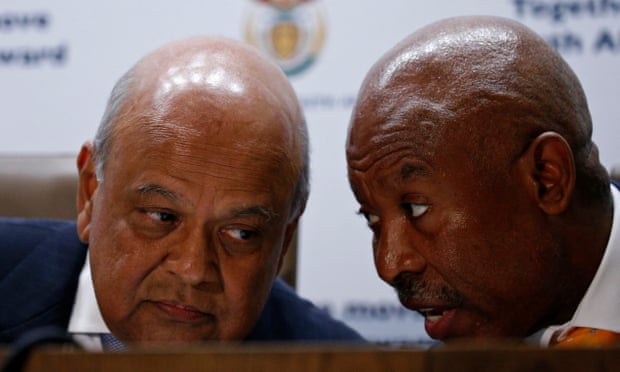 South African markets have rallied after President Jacob Zuma re-appointed Pravin Gordhan as finance minister, although the move did little to quell criticism of the countrys leader.
Gordhan became the countrys third finance minister in less than a week. He previously occupied the post from 2009-14, and is considered a safe pair of hands to guide Africas second-largest economy.
Last week the rand plummeted to a historic low against the dollar after Zuma sacked his finance minister, Nhlanhla Nene, after little more than a year in the job, replacing him with a relatively unknown backbencher, David van Rooyen. The move was widely seen as an attempt to remove any curbs on the presidents spending power.
In his first public appearance since accepting the position, Gordhan acknowledged the unusual circumstances surrounding his reappointment. Our currency fell, the stock market dropped by 2.94% and bond yields shot up by [more than 1.5 percentage points]. Our government is acutely aware of the financial impact this had on those who are invested in this economy. As President Zuma indicated, when a decision triggers developments such as these, a democratic government has a duty to listen and respond appropriately. I am therefore privileged to address you today, he said.
Gordhan promised to uphold South Africas spending ceiling, reform failing state-owned enterprises and protect the countrys credit rating. It is time that individuals or groups of individuals stopped playing with public entities, he told a packed press conference in Pretoria.
Announcing Gordhans appointment, Zuma said he had received many representations to reconsider my decision [to appoint van Rooyen]. Van Rooyen will take over from Gordhan as minister for cooperative governance and traditional affairs.
According to Ranjeni Munusamy, of the Daily Maverick news website, the leaders of the ruling partys alliance partners, the South African Communist party and the Congress of South African Trade Unions, had warned they could no longer protect the president from an internal rebellion.
On Monday morning, the Johannesburg stock exchange soared 370 points on opening, while the rand strengthened to 15.26 against the US dollar, having hit more than 16. Its fascinating that when a Monday morning comes along all those numbers have changed in a very positive sense, said Gordhan.
According to a report in Business Day, the decision to sack Nene came shortly after a cabinet meeting secretly approved a controversial proposal to build a nuclear power plant. Nene had previously said he would sign off on a nuclear deal only if he felt South Africa could afford it. A cabinet spokesperson denied the report.
Although it might have halted economic collapse, Zumas dramatic U-turn has not stemmed criticism of his leadership. #ZumaMustStillFall was trending on Twitter in South Africa on Monday, while a number of prominent voices, including some within the presidents African National Congress, have condemned his decision-making.
Ray Hartley, a political analyst, said Zumas about-turn exposed the weaknesses of his leadership. Zuma has lost his political aura and now the vultures will circle ever more [closely] and the possibility of an early recall looms large, he said.
Read more: http://www.theguardian.com/us