Luis Videgaray was widely reported to have been a leading proponent of Trumps trip, which was seen as something of a disaster for the Mexican president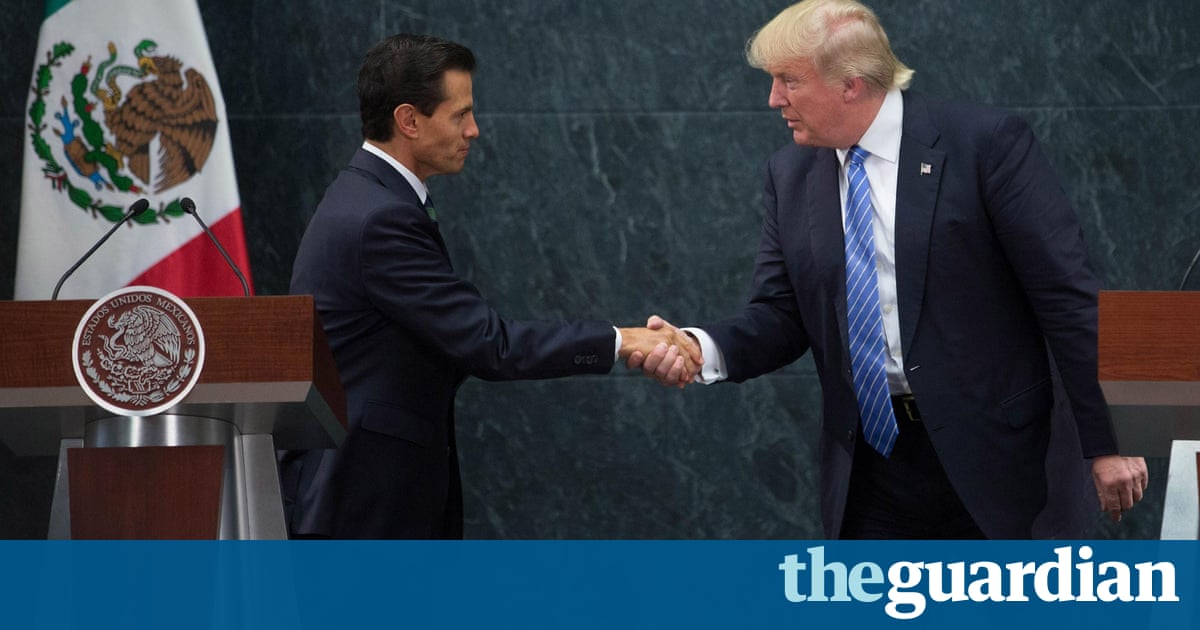 President Enrique Pea Nieto of Mexico is replacing his finance minister, Luis Videgaray, as the country confronts a deteriorating economic situation, increasingly deep debts and the consequences of inviting Republican candidate Donald Trump to Mexico reportedly at Videgarays urging.
A finance ministry spokesperson told Reuters on Wednesday that Videgaray would not take another public position upon leaving cabinet. The social development secretary, Jos Antonio Meade, a former finance minister under then president Felipe Caldern, is expected to replace him, according to media reports.
The cabinet moves come as outrage continues to swirl over Pea Nieto inviting the US Republican candidate to Mexico a decision urged by Videgaray, who wanted to send a signal to calm nervous markets, according to Mexican media reports.
He probably thought it would make Mexico look good by receiving both candidates, that it would be seen as a solid message for the markets, says Jonathan Heath, an independent economist in Mexico City. I dont think he imagined the backlash nor did he take into account the possibility that Trump would accept and Hillary [Clinton] would not nor that Trump would win so much and [Pea Nieto] lose so much.
Videgaray was once seen as a star in Pea Nietos administration, which made a series of structural reforms in areas such as energy, education and the taxation system, while the foreign financial press ran effusive stories on his political skills and PhD from MIT.
Some analysts, however, say he simply did not meet expectations, with decisions such as raising taxes and increasing indebtedness by 10 percentage points in less than four years failing to produce results or meet the lofty promises of the Pea Nieto administration such as annual economic growth of 5%.
He advised [Pea Nieto] that if he got the structural reforms approved, Mexico would grow more, but it hasnt, says Heath. He ends up his term in office with both Moodys and S&P considering downgrades because of macro imbalances, which was supposed to have been one of Mexicos strongest points.
The removal of Videgaray one of Pea Nietos closest political collaborators and his campaign manager in a successful run at the presidency in 2012 comes as the president confronts unprecedentedly low levels of popularity as his government deals with corruption and conflict of interest scandals, including revelations Videgaray purchased a property from a government contractor in 2012 and received a preferred interest rate.
He was damaged goods for quite a while, said Carlos Bravo Regidor, professor in the journalism program at the Centre for Research and Teaching in Economics. The Trump fiasco is just an opportunity for him to take the heat and make effective an exit that was already long overdue.
Videgarays reported replacement, Meade, appeared on Wednesday on the front page of one of Mexicos leading newspapers, El Universal, defending the decision to invite Trump to Mexico. Many Mexicans, including media outlets once reticent to criticize Pea Nieto, have questioned the presidents judgment and unwillingness to criticize Trump during their joint press appearance on 31 August.
It was a useful intervention for the country and useful for Mexicans, said Meade, previously foreign minister under Pea Nieto. Today the debate respecting immigration has turned completely to the recognition of what Mexicans do in their communities, here and there, and this is without doubt a positive result for Mexico.
Read more: http://www.theguardian.com/us