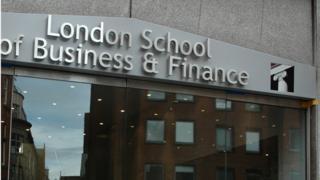 International students have asked the London School of Business and Finance for their money back after it lost its border licence, forcing them to leave the UK midway through their courses.
The private college, which lists Prince Michael of Kent as a patron, had its permission to recruit and teach non-EU students revoked last month.
Some 350 must leave the UK by the end of March under Home Office rules.
The college says some students have already received refunds.
Compensation
But one South American student, who asked not to be named, says she and several others want full refunds on their Masters of Business Administration (MBA) courses, plus compensation for living costs and plane tickets.
They paid up to 9,000 a year in fees to London School of Business and Finance and say their own visa applications were accepted by the Home Office after a lengthy process, including face-to-face interviews of more than an hour.
But too many students accepted by the college had their visas refused.
Under the rules, once this figure goes over 10%, institutions automatically have their licences to sponsor non-EU students suspended or revoked.
This means all their non-EU students, whether their visas were previously deemed valid or not, must leave the UK within 60 days.
The LSBF students are the largest group from a single institution to have their visas curtailed under these rules.
Three years ago more than 150 had to go after London Metropolitan University lost its border licence.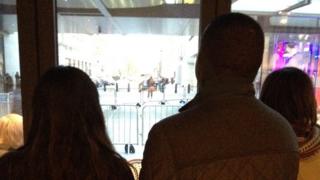 LSBF has issued new timetables to cram teaching on courses that were not due to end until July or September, into six weeks.
But students say this means they will lose access to libraries and academic supervision.
"When I go back to Africa I won't be able to access the internet.
"So how am I going to do my research or submit assignments or contact my supervisor?" asked one.
"You pay for the experience and this is very different from the experience we were expecting," said another
They say they feel they are being punished for mistakes made by their college when they have themselves done nothing wrong.
"We can't believe this is happening in the UK," she said.
They are also worried that awarding bodies might not agree to the compressed courses.
An Italian distance-learning university, Uninettuno, whose offices are in Rome, accredits the MBA.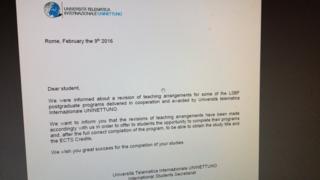 LSBF has forwarded students an email attachment which says Uninettuno is aware of the new arrangements.
But the letter, addressed: "Dear student", rather than to individuals, does not specify precisely which courses it applies to and is not signed.
"I have asked for another letter… signed and printed and addressed specifically to me," said one student.
Students' fears
The students are unsettled, worried they might not receive their degrees.
"We are asking for written confirmation of when we would expect to get our diplomas. When is the graduation ceremony?"
The BBC asked the Department for Business, Innovation and Skills, which is responsible for higher education, for a comment.
The department referred the issue to the Home Office which said it was "unable to intervene in commercial issues and disputes between individuals and colleges in relation to payment and possible refund of fees".
A Home Office spokesman said all institutions holding a licence to recruit international students must pass an annual assessment in order to retain it.
"London School of Business and Finance failed to pass this annual assessment so its licence has been revoked."
'Depressing'
But Dominic Scott, chief executive of the UK Council for International Student Affairs, says international students deserve protection.
"This is yet another desperately depressing example of the Home Office taking action against an institution but then no other government department taking responsibility for helping those entirely innocent international students affected."
Mr Scott said whatever the background to the case he believed the "primary moral and ethical responsibility of any teaching institution in the UK who cannot complete a programme is to arrange for the students to be taught elsewhere, in this case in London and at that institution's expense, or to refund all fees paid."
Prof Maurits van Rooijen, LSBF's rector and chief executive said all affected students had been given personal sessions to discuss "appropriate arrangements and fair compensation" and the process was now under way.
"We have an independent appeals process should a student be unhappy with their proposed settlement, but so far no student has raised an appeal with us," said Prof van Rooijen.
"Our priority is that students can complete their study programme and that they are not financially punished by this regrettable action by the Home Office.
"We are fortunate that, due to the structure of our organisation, we are able to support our students via online learning and on our sites across the world, or with our international and domestic partners."
Read more: http://www.bbc.com/news/uk