Wolfgang Schuble makes case for UKs continued membership as Boris Johnson hits out at agents of fear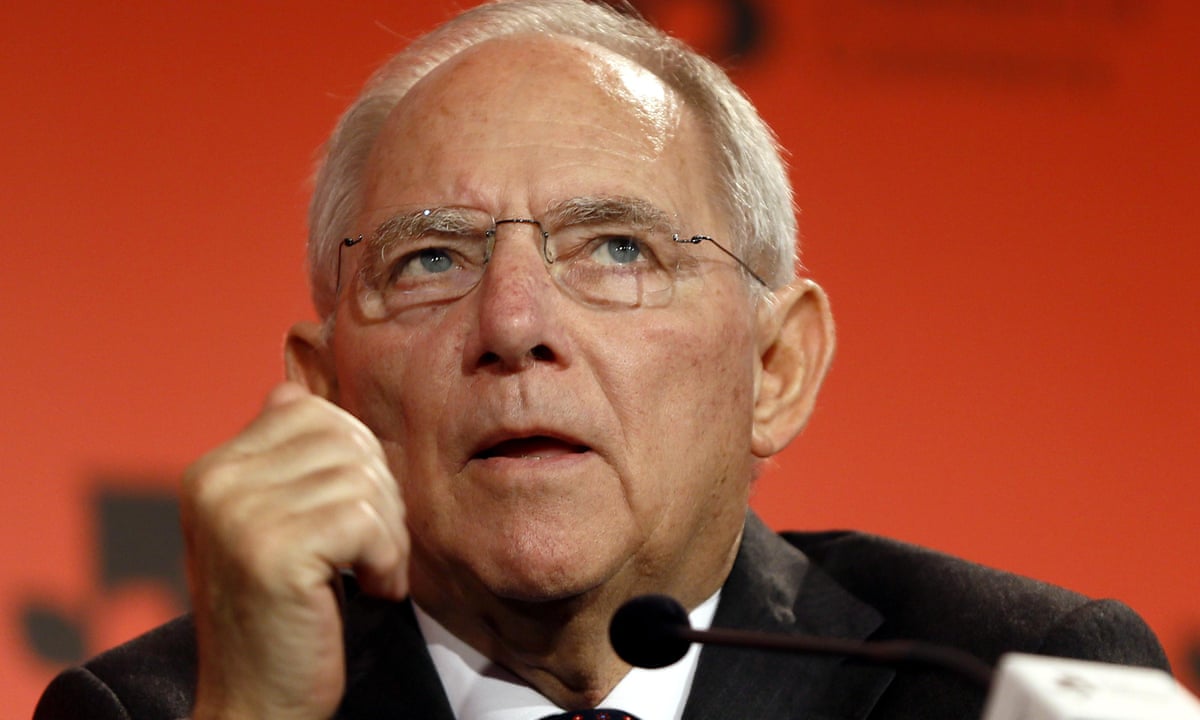 A British decision to leave the European Union would be poison for the UK, European and global economies that would last for years, the German finance minister has said.
Wolfgang Schuble made the case for Britains continued membership of a reformed EU as Boris Johnson, the mayor of London, reiterated his belief that the government was using agents of fear to undermine a vote for Brexit.
Johnson reasserted his attack over the scandalous circumstances in which a senior businessman resigned from the British Chambers of Commerce (BCC) for expressing a positive view of Britain outside the EU.
Their comments follow a weekend of acrimonious campaigning from senior ministers for different sides of the in/out referendum, due to be held in June.
Schuble told BBC1s Andrew Marr Show: We would have years of the most difficult negotiations, which would be very difficult for the EU as well. And for years we would have such insecurity that would be a poison to the economy in the UK, the European continent and for the global economy as well.
In response to a question about Turkey, he said the German government had major doubts about whether it should become an EU member. Negotiations would take a long time, and this was not a worry at the present time.
Johnson, who is at the forefront of the campaign to leave the EU, also appeared on the show. He questioned why John Longworth, the director general of the BCC, has stepped down from his position.
It is very sad that someone like John Longworth who shares my view, who has great experience of British business and industry, should have paid quite a heavy price it seems from what has happened today for sharing that optimistic view.
He has been asked to step down for expressing a passionate, optimistic view of this countrys chances. Can you imagine the CBI doing the same to any of its leading figures for arguing that we should stay in?.
Downing Street dismissed claims that it put pressure on the BCC to suspend its leader for claims that the country could have a brighter future outside the European Union.
No 10 said it was surprised by the views expressed by Longworth and acknowledged that it speaks to business organisations regularly. But a statement from Downing Street reiterated claims that no pressure was put on the BCC to suspend Longworth.
The mayor claimed that Longworth had become a victim of project fear the label used by leave campaigners to criticise the tactics used by David Cameron and his allies backing a vote to remain.
A Downing Street spokesman said: Given that 60% of BCC members say they want to stay in the EU, No 10 was surprised to see the director general of the organisation come out for Brexit. We are clear no pressure was put on the BCC to suspend him. Of course, No 10 talks to business organisations regularly but, to be clear, no pressure was applied. This decision is entirely a matter for the BCC.
The Sunday Telegraph said a friend of Longworth claimed Downing Street had bullied and been putting pressure on BCC board members to suspend their director general.
Liam Fox, the former defence minister and a prominent leave campaigner, said he would ask questions in the House Commons about the governments contact with the BCC.
The senior Tory told BBC Radio 5 Live: I think, quite reasonably, I want an explanation as to what happened and I want to know if any part of government not just No 10, any part of government was involved in putting pressure on the BCC to drop John Longworth because I think that is inappropriate and I think if we dont get enough explanation well have to get a better one on the floor of the House of Commons.
Speaking to Marr, Johnson said it was cobblers that Cameron would have to leave office if Britain voted to leave the EU despite speculation Tory MPs are plotting to oust him in such circumstances. The London mayor also rejected claims he had decided to back an out vote for personal ambition rather than because it matched his convictions.
He added: To the best of my knowledge there is not a single European leader who has had to step down after the referendum, whether it was on the EU or any other matter.
Johnson used a colourful metaphor to describe the arguments of some in the remain camp as being negative and small-minded in the face of an opportunity to leave and restart negotiations with the EU.
This is like the jailer has accidentally left the door of the jail open and people can see the sunlit land beyond, he said. And everybody is suddenly wrangling about the terrors of the world outside. Actually it would be wonderful. It would be a huge weight lifted from British business.
However, Johnson distanced himself from Camerons claims that article 50 would have to be triggered the day after a vote to leave the EU. I dont believe it would, he said.
During the interview, Marr criticised Johnson for failing to answer questions succinctly. This is not the Boris Johnson Show, he said. Johnson, widely seen as a possible challenger to Cameron following the EU vote, was criticised for his performance by some fellow Conservatives.
Ruth Davidson, the popular Scottish Tory leader, wrote on Twitter: Is it just me or is Boris floundering here? Not sure the bumble-bluster, kitten-smirk, tangent-bombast routine is cutting through.
In a further development, Iain Duncan Smiths attacks on the remain camp have been accused of putting off women voters, according to a cabinet colleague. The work and pensions secretary, a prominent backer of Brexit, accused the government of producing a dodgy dossier criticising the alternatives to EU membership.
The education secretary, Nicky Morgan, who is campaigning to stay in the EU, said aggression in politics doesnt appeal to women. She also dismissed the impact that Johnson would have on the referendum contest following his decision to campaign for a vote to leave the EU on 23 June.
Morgan told the Independent on Sunday: I had a conversation with some businesswomen in my constituency. They said, that bloke who talks about the dodgy dossier Iain Duncan Smith they said what kind of language is that? Thats not going to tell us anything about the debate.
Aggression always appeals to a certain type of person in politics, but my experience is it doesnt appeal to women, she said. I think, actually, saying these phrases like dodgy dossiers and asking about project fear completely misses the point.
Senior Conservative backbencher David Davis demanded a clear statement by Downing Street that the government was not involved in pressurising the BCC into suspending Mr Longworth.
We need to know there was no contact between ministers and their officials before Fridays BCC board meeting that took the decision to suspend its chief. Downing Street has form in this respect. It has already admitted it made a mistake in adding the name of Gen Sir Michael Rose, the former special forces commander, to a letter from former military leaders supporting Britains continued membership of the EU.
The row over Longworths position came as Johnson joined with fellow leave supporter, the justice secretary, Michael Gove, in an attempt to undermine the prime ministers repeated claims that EU membership made the UK stronger and safer.
Gove told the Sunday Times: I think overall our national security is strengthened if we are able to make the decisions that we need and the alliances that we believe in outside the current structures of the of the European Union.
He claimed EU judges had taken decisions against the UKs national interests by dictating what our spies can do and whether we can be kept safe.
Gove added: Our security and sovereignty stand together. I believe that there are better opportunities to keep people safe if we are outside the European Union.
Read more: http://www.theguardian.com/us